RUR98I Ultra Series Tankless Water Heater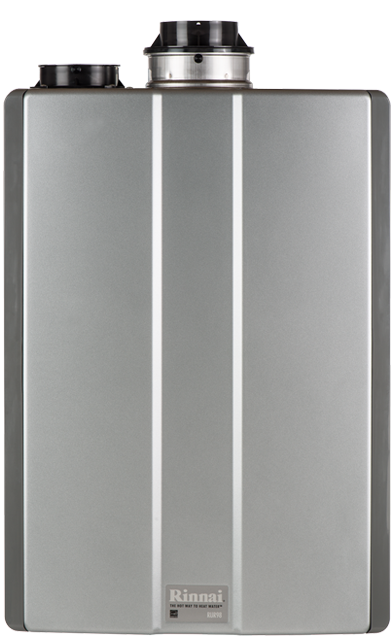 More Hot Water Faster!
Rinnai Ultra Series Tankless Water Heaters deliver innovation and technological leadership in condensing tankless water heating design. Providing homeowners with an endless supply of hot water, energy savings, a space-saving design and environmental benefits, Rinnai now offers faster hot water with the new Ultra Series RUR models Tankless Water Heaters. These new Ultra Series condensing tankless water heater models, RUR98i and RUR98e, feature recirculation (with or without a dedicated recirculation line) provided by thermal bypass technology which includes an integrated pump, internal bypass line and thermal bypass valve which means less wait time for hot water.
The new RUR98 will come complete with:
Built-in circulation pump
Internal by-pass pipe for internal "recirculation"
MC-195T remote controller
Thermal Bypass Valve
Isolation Valves
Dimensions

Width: 18.5 inches
Height: 26 inches
Depth: 10 inches
Weight
72.8 lbs / 33.0 kg
Installation Type
Indoor
Minimum/Maximum Gas Range
15,200 - 199,000 Natural Gas and Propane
Energy Factor
0.95 for Natural Gas and Propane
Temperature Range
Residential: 98°F - 140°F Commercial: 98° F - 140°F
Approved Gas Types
Natural Gas or Propane
Minimum Activation Rate
0.4 GPM
Flow Rate (70° / 50° Temperature Rise)
5.5 / 7.7
Hot Water Flow Rate Range
0.26 to 9.8 GPM
Controllers
MC-195T-US (included) - Pump Timer Control MC-91-2US (optional)
Ultra Low NOx
Yes
Warranty (Residential)
Limited 12-year on heat exchanger, 5-year on parts, 1-year on labor (5-year optional on labor)
Warranty (Commercial)
Limited 5-year on heat exchanger, 5-year on parts, 1-year on labor (2-year optional on labor)
Mobile Home Certified
Yes
Valves Shipped in Box
Yes
Certifications
AHRI, CSA, NSF, Energy StarŪ
Venting Options
PVC/CONCENTRIC PP