NRC111 (N-0842MC) Series Condensing Tankless Water Heater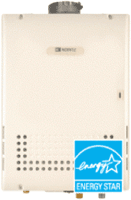 Condensing technology – The most advanced Noritz unit, over 93% efficiency level!.
Safety lock out – Default max. 120 degrees (refer to owner's manual for higher temp)
Dual flame burner – Noritz exclusive! Minimizes temperature fluctuations.
Fully modulating – Automatically adjusts burner level accordingly.
Dual heat exchanger – 100% stainless steel corrosion resistant heat exchanger fused with a commercial grade copper heat exchanger.
Turbo Flow – Up to 11.1 GPM @ 35 degree temperature rise (8.4 GPM @ 45 degree rise)..
Direct ignition – No standby pilot light.
Thermal fuse – Automatic overheat protection system.
Resin coated PC board – Increases durability and protection from elements.
Automatic air regulator – Monitors internal temperature/maximizes burner efficiency.
Neutralizer included – Built-in neutralizing system for condensation.
Commercial grade heat exchanger – 25% thicker piping than our competition.
MODEL
INSTALLATION
WARRANTY
ENERGY FACTOR (EF)**
Natural Gas
Propane
NRC111-SV
Indoor/Outdoor
12yr/5yr parts/1yr labor*
0.91
0.93
NRC111-DV
Indoor
12yr/5yr parts/1yr labor*
0.92
0.94
*3-year replacement on the heat exchanger when product is used for commercial capacity, if it is used on other than a single family dwelling, or if the product is supplied with pre-heated or circulated water. 5yr parts/1yr labor.
**Energy Factor (EF) is a measurement of relative energy efficiency for a water heater; the high the EF, the more energy efficient the water heater.